A breakdown of the Phoenix Suns' unlucky history on St. Patrick's Day
The Phoenix Suns have an 11-14 record on St. Patrick's Day, but as of late have had horrible luck. Here is a history of Suns' games on this festive Irish holiday.
The Phoenix Suns were not scheduled to play on St. Patrick's Day this year. It was a good thing because if recent history were to continue, they would have probably had some bad luck.
In their history, the Phoenix Suns have played on St. Patty's day 25 times and hold an overall record of 11 wins and 14 losses. However, a deeper dive shows that their luck on this festive day ran out two decades ago.
The last time the Suns won on March 17 was in 2003, an overtime game against the Toronto Raptors. In that contest, Shawn Marion and Stephon Marbury led the Suns with 30 points and 25 points respectively.
After this game, the Suns would start a six-game St. Patrick's Day losing streak that is still going strong. During this stretch, there have been some novelty games played on this day.
In 2007, in a loss to the Denver Nuggets, the Suns gave up 131 points, the most all season allowed in regulation.
In 2016, in a loss to the Utah Jazz, the Suns only managed to score 69 points. This tied the franchise record for 3rd lowest point total in their history.
Most recently, in the 2018 loss to the Golden State Warriors, Josh Jackson came off the bench and scored his career-high, 36 points, marking without the luckiest day of his NBA career.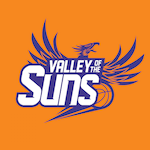 Phoenix Suns
As a contributor, we look for your ingenuity and creativity, as well as your knowledge on specific fandoms. This is a great role for the budding writer or blogger looking for an exciting platform to hone their craft. As a contributor, you will receive unparalleled support, training, and exposure for your growing voice.
From the year 2000 and earlier, however, the Suns actually had somewhat good luck. From 1989 to 2000, the Suns were 6-2 on this Irish drinking day, and during this stretch, there were much more positive standout performances.
In 2000's win over the Vancouver Grizzlies, Jason Kidd had 15 assists, the second most of the season.
The year before that in 1999, Rex Chapman in his final NBA season, came off the bench and scored a season-high 25 points, albeit in a losing effort to his former team, the Charlotte Hornets.
In 1997, Jason Kidd scored his season-best in points in a win over the Golden State Warriors (33), and in 1989, Kevin Johnson did the same but with a point total of 39.
Prior to 1989, the team was 4-4 with no real noteworthy performances.
Also, a shout out goes to Pat Burke, who from my research was the last Irish-born player to dawn a uniform for the Phoenix Suns. He was on the roster in 2006 and 2007, but sadly, did not play in either of those years' St. Patty's Day games.
Maybe the Phoenix Suns need some St. Patrick's Day jerseys or something to help reverse their current string of bad luck. I know there is nothing inherently Irish about Phoenix, but considering its melting pot (or maybe a salad bowl) status, and the number of people who pack the bars (not this year, of course) on this day, I'm sure they would sell like green beer at Pattie's in Old Town.
The NBA already sells St. Patrick's Day-themed Suns gear on their website, so a jersey the players were isn't that far of a stretch. Anything that will mix up the team's luck and return them to their winnings ways from decades ago.