What if Sarver's threat to move the Phoenix Suns is a GOOD thing
Robert Sarver has reportedly threatened to move the Phoenix Suns to either Las Vegas or Seattle. As awful as that might sound, it actually could be the sign of something big and good happening to the franchise.
The Phoenix Suns have been mostly terrible for the last 8+ seasons and aside from Devin Booker, absolutely nothing seems to be going their way.
The one constant?
Owner Robert Sarver. A man who on the day he and Jerry Colangelo held their transition press conference said that he "doesn't know much about basketball."
Since 2004, Sarver has had plenty of time to learn the in's and out's of running a franchise, and since leaving the banking world to focus his resources and efforts on the Suns exclusively, he has probably learned a lot about how and how not to run a successful franchise.
Unfortunately, he appears to have taken the "how not to run a franchise" rules to heart and has created the worst era of Suns basketball the franchise has ever known, something that only he can own.
Earlier in the fall Sarver approached the Phoenix City Council looking for $150 million to refurbish and update Talking Stick Resort Arena. While it seems like (if true) a calculated move that might potentially be part of a negotiating tactic to eventually move the Suns to Scottsdale or a local Indian Reservation, Suns fan's greatest fears seemingly came to light on December 12, when it was reported that Sarver had threatened the council to move the franchise to Las Vegas or Seattle if they didn't allocate the money.
I am not on the council, but I am ready to call his bluff.
Adam Silver and the NBA would not allow the Phoenix Suns to move, even to Seattle – who in my opinion well deserves a team.
Phoenix has been a blue chip, pillar city in the NBA since 1968, one of only five franchises to have lasted at least 51 seasons in the league without moving – and only four who are at least as old as Phoenix and have not relocated one in the franchise's history (the Lakers have been in L.A. since 1960, but of course began in Minneapolis in 1949).
The Seattle television market is a hair smaller than Phoenix (which is 12th in the nation), while Las Vegas is 39th. Why would the NBA even consider moving a traditionally very popular and stable franchise to either a city – which at least in television viewing is a parallel move – or to Vegas which is significantly smaller?
The truth is: they wouldn't. I'd bet you my future fortune that the Phoenix Suns are about as impossible to move from Phoenix as the Knicks – and Sarver knows it.
Even if Sarver attempted to make due on his threat to move the Suns and Adam Silver and the owners were at least open to the possibility of listening to his orations, the process would take several years as there is nothing imminently available in either major city (or any others). Just ask the Coyotes.
So then. What is his end to these means?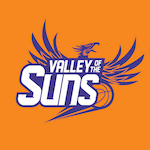 Want your voice heard? Join the Valley Of The Suns team!
Write for us!
<!—pageview_candidate—>