Suns should make this trade to address every issue on the roster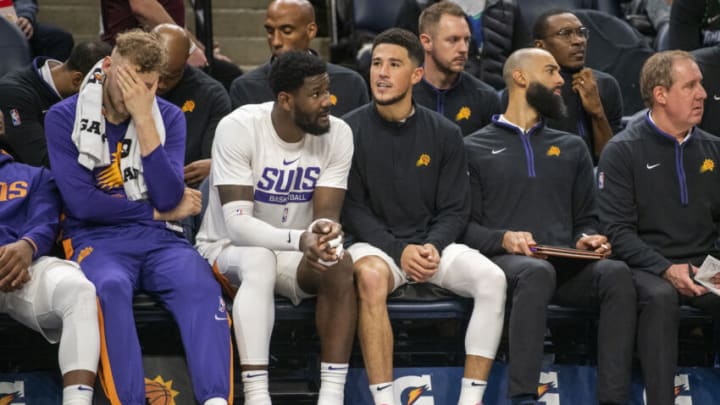 (Photo by Stephen Maturen/Getty Images) /
While the Phoenix Suns now have one of the best starting lineups in the entire league after the trade for star guard Bradley Beal, but the roster still has some issues, like not knowing who the fifth starter is. Then again, every roster in the league has issues, and only some are perfect.
We are still at the offseason stage where no team is perfect, and everyone can improve, even the Denver Nuggets, who just won the NBA Finals.
While we are still 24 days away from the first preseason game of the season for the Phoenix Suns, there is still plenty of time to improve their roster. The Suns have plenty of things they can improve on, too, and making some moves, whether it be free agency, they'd have to make room for that signing or even a trade could be made.
The Suns need more depth. Sure, some of the guys they have on the team on the bench are good. They easily have room to get better. The Suns also need a point guard and a true one at that. They need a guy who can create plays for others and be a guy who can take pressure off of the stars.
A trade can do that.
Suns' potential trade could work wonders
There is a trade that could work very well for several different teams. All of these teams would get exactly what they need, including the suns. You could call this a blockbuster trade, too.
Let's start with what the Suns would get and what they are giving up.
In this four-team trade between the Suns, Clippers, Wizards, and Sixers, the Suns will give up Deandre Ayton and a 2028 second-round pick because, let's face it, they don't have many picks to give up.
The Suns will receive point guard Tyus Jones from the Wizards, Ivicia Zubac from the Clippers, and Danilo Gallinari from the Wizards.
This trade would give the Suns the point guard they need, a guy who can start or play off the bench in Tyus Jones, their big man replacement after giving up Ayton, and another depth piece with Gallinari, who can score at a very efficient clip, and that's what they need on their bench, among just about every other team in the league.
Jones is on a one-year, $14 million deal, Zubac is on a two-year, $10.9 million deal, and Gallinari is on a one-year, $6.8 million deal. They are giving up Ayton's three-year $32 million deal, so the money also works in this deal.
As far as the other teams, they are getting what they need to.
The Clippers are getting James Harden and Mike Muscala in this deal. They will need another big after giving up Zubac to the Suns, but they also get James Harden, who has been rumored to have a liken to join Paul George, Kawhi Leonard, and Russell Westbrook.
The Sixers are getting Marcus Morris, Robert Covington, Delon Wright, the Wizards' 2026 second-round pick, the Clippers' 2028 and 2030 first-round picks, and the Suns' 2028 second-rounder from Memphis.
The Wizards are getting Deandre Ayton to pair with Kyle Kuzma and Jordan Poole, along with a Clippers 2029 second-round pick and a Sixers 2030 second-round pick.
A lot of people will not like giving up Ayton in this trade because he is the star big man and former first-overall pick; however, they may want to do it now before it's too late. Last season was not good for Ayton. He wasn't great in the playoffs, as he showed no effort.
He also looked like he didn't want to be out there. The Suns could get ahead of the curve and save Ayton from having to eventually ask for a trade when he is unhappy in his role with three superstars on the roster. Then, going to Washington, he can be a go-to.
There is a higher chance this trade won't happen than there is it will. Huge blockbuster trades just don't happen that often. However, if it did happen, I think the Suns get noticeably better.