Spencer Dinwiddie's idea would put the Phoenix Suns in the playoffs
There are many ideas floating around about how the NBA should return if the rest of the season isn't canceled. Spencer Dinwiddie came up with a solution that would put the Phoenix Suns in the playoffs.
Brooklyn Nets guard, Spencer Dinwiddie, who is very intelligent and a great Twitter follow, came up with a brilliant idea to finish out the season, and it would put the Phoenix Suns in the playoffs. In fact, it would put all 30 teams in the playoffs (sort of).
The way Dinwiddie describes it, it would go like this:
5 game tune-up for every team.
28 team tournament.
Conferences not taken into account (teams seeded 1-30).
Top 4 seeds get a bye.
Teams seeded 27, 28, 29, 30 have the neutral site play-in games in a best-of-3.
Then the round of 28 is the best-of-5.
Then the round of 16 proceeds as usual
This idea is golden. It would do so many things to help satisfy both teams and fans.
For teams, it would give those vying for a playoff spot a chance to actually make the playoffs. They wouldn't be able to complain that they would have made the playoffs had they still been able to play their remaining 17 or 18 games.
It would also give teams like the Phoenix Suns, who haven't played a meaningful game in June in many years, a chance to, well, play a meaningful game in June.
For fans, all the above. Plus, with the cancellation of the NCAA tournament, this would give Bracketology a whole new meaning. Offices could have pools on who they think will advance to the Final Four NBA semi-finals.
Dinwiddie even floated the idea of having the neutral site play-in games be at football stadiums in an effort to recoup some revenue. If this idea were to hold, there would be many people going just for the novelty of watching an NBA game in an NFL arena.
While you might argue no one will watch a play-in game between the Cleveland Cavaliers and Golden State Warriors (ironically, the highly-watched NBA Finals matchup from just four short years ago), you need to remember that a ton of people tuned in to watch Fairleigh Dickinson play Prairie View A&M in the NCAA First Four last season, just because it was the start of the NCAA tournament.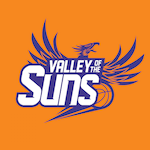 Phoenix Suns
As a contributor, we look for your ingenuity and creativity, as well as your knowledge on specific fandoms. This is a great role for the budding writer or blogger looking for an exciting platform to hone their craft. As a contributor, you will receive unparalleled support, training, and exposure for your growing voice.
If the NBA were to do this, the Phoenix Suns would be the 21 seed and play the 12 seed, Philadelphia 76ers, in the First Round.
Ah, the classic 12-21 seed upset alert would be in full effect.
If the Suns were to win that series (Dinwiddie proposed a best-of-5), they'd likely play the Boston Celtics (assuming they beat the play-in team), in what would effectively be the first round of the normal playoffs.
That would be very doable, and frankly awesome.
The logistics of this would be a nightmare, but who cares? No matter what they do, if indeed they choose to resume play when everything returns to normal(ish), logistics will be tough. I'm convinced the Suns would play their home games at the Madhouse at McDowell due to the renovation construction at Talking Stick Resort Arena.
So, yes. That would mean a Suns playoff game at the Madhouse on McDowell! Are you kidding me?!
As of now, the NBA is bracing for a June return, but as fluid as this situation is, there is no way to tell when things might shift toward outright cancellation. If they do come back, the logistics will work itself out. It is the solution of how to play games that will require some significant pondering and this proposal is the best and most creative one I've seen thus far.
NBA, make this happen.