Phoenix Suns waive Jared Harper for some reason
Jared Harper, a two-way contract player for the Phoenix Suns, has been waived in a relatively surprising move by the franchise.
The Phoenix Suns signed the college star out of Auburn, Jared Harper, to a two-way deal seemingly minutes after the 2019 NBA draft, which would make you think they really liked his game.
Evidently they didn't like it enough.
Gina Mizell of The Atlantic reported on Thursday the team waived Harper in a move she rightly felt she had to point out had nothing to do with the coronavirus. Strange times.
Speaking of strange, waiving Harper doesn't make a ton of sense on the surface considering he was leading the Northern Arizona Suns of the G-League in points (20.8 per game) and assists (5.7 per game). He was also shooting a respectable 35.9% from behind the arc and averaging one steals per contest.
Harper only played in three NBA games with the Phoenix version of the Suns, where he was primarily only used in garbage time. He scored a total of two points in eight minutes of play.
Because he was on a two-way contract and the deadline for signing two-way deals has passed, the Suns cannot bring someone else in to replace him. Then again, they never filled the open spot on their active roster, so maybe having a full complement of players isn't all that important to them.
Harper was only on a one-year deal, so cutting him at this point in the season, whether it is called off or not, seems downright meaningless.
To recap, he was clearly the Northern Arizona Suns' best player, the front office liked him enough at the draft to sign him immediately afterward, the Suns can't replace him, and his deal expired at the end of the season.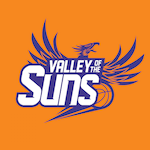 Phoenix Suns
Our site co-experts are asked to help to grow a vibrant community at their respective sites. To do so, we look to our experts to help us provide daily content for our readers, engage with fans via social media (Facebook and Twitter), and edit user content in order to create a universally enjoyable user experience. In exchange, these experts will be compensated for their work based on the performance of their respective site(s).
Something else was going on.
I'm certainly not going to speculate as to that something. I'll just say the Northern Arizona Suns were an abysmal 8-34 and riding a 14-game losing streak before the G-League and NBA entered the coronavirus-induced suspension.
Also, at 5'10", 175 pounds, his undersized stature would have made it an uphill climb to ever see significant minutes in the NBA. However, they knew his size when they signed him and he excelled at the G-League level, so I'm not sure what else they expected from him on the court.
Strange times indeed, but such is life in the NBA. Best of luck to him in the future.