It's okay Phoenix Suns fans: you're allowed to and SHOULD be angry
We all love the Phoenix Suns. But they are bad, once again. Do not worry though: you are ALLOWED to be angry. It might actually help everyone involved.
The Phoenix Suns blew a large lead in the fourth quarter on Friday night at the Golden State Warriors, the franchise's 483rd loss of the decade – with two games remaining, both on the road.
This team was supposed to be better.
This team was supposed to be competitive.
This team started out 7-4, ten of those games without hopeful-franchise pillar Deandre Ayton.
And yet, they're not  better.
They're not  all that competitive when it matters.
Since beginning 7-4 they are 4-16.
You  are sick and tired of the losing.
Al McCoy is sick and tired of the losing.
And Devin Booker is sick and tired of the losing.
So, let us, the fans, do a little emotional therapy.
First off, if you believe otherwise, or if you think that it is too negative to think otherwise, I want you to grow up, stop lying to yourself, and accept the truth:
This. Team. Is. Not. Good.
Read it again.
This. Team. Is. Not. Good.
Now I want you to say it out loud:
This. Team. Is. Not. Good.
Now I want you to SHOUT IT AT THE TOP OF YOUR LUNGS (Hopefully you are alone and you can't scare anyone more than your cat):
THIS TEAM IS NOT GOOD!!!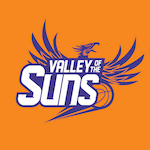 Want your voice heard? Join the Valley Of The Suns team!
Write for us!
Good. Now that you have hopefully accepted this fact, I want you to accept another fact: It is not your fault. You  are not  the reason the Phoenix Suns are a bad team.
Do not take these losses personally. There are far more important things in your life than professional basketball, and you should seriously focus the bulk of your energy on those things reserving only the slightest amount of energy on the Phoenix Suns.
But you should  be angry at the franchise for the losing.
You should  have greater expectations than a losing team for the tenth consecutive year of your life.
By the way, God Bless those of you who begun your fandom after  the playoff run of 2009 and yet have stuck around to this point in their history.
The thing that is most important, however, is that you do not sugar coat the losses with some false sense of hope that they will finally be better and championship competitive in the near-future and that all the harsh memories of the previous decade are suddenly going to wipe away in an instant.
It is not going to happen unless something truly dramatic occurs in the form of a major trade for a second star to place next to Booker.
And that is actually why we are here right now.