Evaluating Cheick Diallo, the Phoenix Suns' newest signee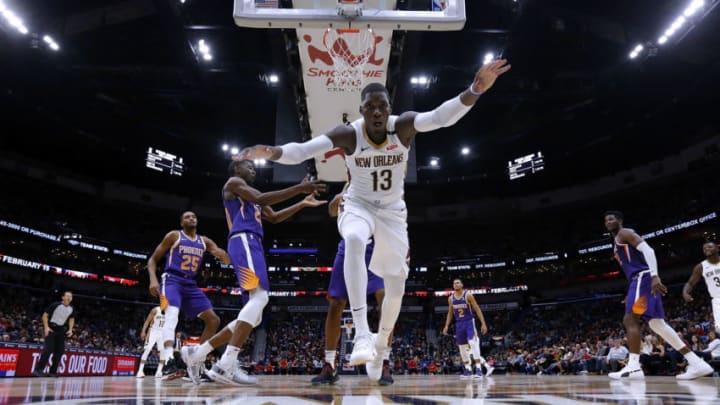 Cheick Diallo Phoenix Suns (Photo by Jonathan Bachman/Getty Images) /
Cheick Diallo, the Phoenix Suns' newest 6'9″ power forward and three-year NBA vet, picked up a basketball for the first time in his life ten years ago. That's it. Ten. Most of my t-shirts are older than that.
The then 13-year-old kid in Mali (for the geographically challenged, that's a country in West Africa), Cheick Diallo picked up the sport of basketball at an extremely fast pace, and by 16, left his home country of Mali and moved to New York to grow his game.
Well, sort of.
Diallo was recruited to New York by Our Savior New American Prep School.
If that sounds like a school where Saul Goodman may have earned a degree in underwater basket weaving, it kinda is. It has been the focus of several NCAA eligibility cases, Diallo's being one of the highest profiled.
Our Savior caters to foreign-born basketball talents and must have travel coupons to Mali as they regularly have a handful of Mali-born players on their roster. And while giving kids like Cheick an opportunity to come to America and reach their dreams is objectively a good thing, many have questioned how altruistic their efforts truly are.
Couple that with a reportedly shady legal guardian, and an inept, over-reaching and soulless institute known as the NCAA slow-rolling the investigation, Diallo did not receive eligibility until six games into his only year at the University of Kansas.
To be fair, none of that is any fault of Diallo.
By all reports, he's a genuinely good guy with a very strong work ethic and just wants a place to play high-level basketball.
Once the NCAA's ruling came in Cheick's favor, the college basketball world held its collective breath.
Cheick Diallo, the top 10, five-star recruit, surefire lottery pick, McDonald's All-American, and Jordan Brand Classic MVP with a hot mixtape was finally eligible – and people couldn't be more excited to see him play.
But like so many big build-ups, the final result was disappointing.
In fact, Diallo's time at Kansas went over about as well as the Game of Thrones series finale.
If someone were to create a Cheick Diallo collegiate mixtape, it would mostly consist of him sitting on the bench wondering why the Phog Allen Fieldhouse crowd randomly breaks out into Gregorian chants.
When he was on the court, he played a backup role to notable 12th year senior Perry Ellis, and averaged a meager 3 points and 2 rebounds in just over 7 minutes per game.
What does a freshman with those numbers do?
Declare for the NBA, of course, and raw-talent, potential-loving professional executives were happy to reinforce this decision.
Although not the lottery talent many had projected him to be prior to the start of his college career, the New Orleans Pelicans scooped him up with the 33rd overall pick in the 2016 draft.
For the last three seasons, Diallo has only slightly improved on his Kansas numbers, averaging 5 points, and 4 rebounds in 12 minutes per game.
So when it was time for a new raw-talent, potential-loving group of execs to step up, the folks in Phoenix were ready, signing Diallo to a two-year deal that will pay him roughly $1.6 million dollars per year.
That's a pretty good payday for someone being financially rewarded for raw talent and potential alone.
Here's the thing with the word raw: it's a synonym for not-very-good.
And potential? You typically give rookies contracts on potential, not three-year veterans whose potential has yet to show any signs of development.
Basically, I could think of other ways to spend that money.
Having said that, there's the flip side: the few points Cheick Diallo will score are going to be a lot of fun to watch.
The guy is super animated and has a motor that doesn't stop. He's going to showcase some gravity-defying blocks and if we're lucky, a few of his Deion Sanders-esque, Karl Malone originated, hand-behind-the-head dunks.
His favorite.
The key attributes Diallo brings are length and energy. He's an in-the-paint power forward which might actually balance the stretch-fours the Suns currently employ.
He's also been known to flex after big plays, so that's awesome.
All this leads me to the following stat predictions:
Season Stat Predictions
"Points per game: 5.5Rebounds per game: 5Blocks per game: 0.5Number of unbelievable dunks posterizing his opponent: 5Number of near blocks where he is the one getting posterized: 5Number of insanely unbelievable blocks where no one gets posterized: 5Number of times announcers will use the word, 'raw' to describe him: 500Number of questionably deserving flexes: 5"
I hope these somewhat pessimistic stat predictions end up being trash.
Ideally, Diallo will blossom and become the star everyone thought he would be as a lanky teenager at a sketchy prep school.
He's only been playing basketball since the year Avatar came out, so it's definitely possible. The guy has had a wild ride to get to this point since he first picked up that basketball in Mali and Phoenix is the next stop.
Hopefully he can make this final stat prediction come true:
Number of Valley of the Suns Bloggers proven horribly wrong: 1