Four veteran point guards John Gambadoro says the Phoenix Suns might target
On June 4, John Gambadoro of Arizona Sports 98.7 noted four veteran point guards that he feels the Phoenix Suns might target. Let's take a look at who, why, and what if.
I wish there was another way of saying this, but here it is: The Phoenix Suns need a point guard.
For as God-awful as the team has been over the last two seasons, there has been one non-ownership related consistency, the roster's abject lack of a point guard, a situation that must, before all other improvements, be rectified this offseason.
While most fans have their collective hearts set on younger, less establish options like D'Angelo Russell and Lonzo Ball, it takes two parties to tango, and if the Lakers do not want what James Jones is willing to offer, and the Nets fail in their pursuit of Kyrie Irving, then the Phoenix Suns will likely have to look elsewhere, and fans will simply have to deal (or commiserate. One of the other).
Oh, and pray that they steal a superstar in the draft, because honestly, at this point, what else have we got?
Going the veteran free agent rout, however, does provide the Suns with some potentially cheap, and although not flashy, dependable and affordable options.
The players that Gambo notes are not the long-term staples that fans want, but each one of them does buy James Jones time to find that next pillar point guard, while still improving the roster now, winning more games, and developing his current young stars (and potential stars) in a stable offense.
Not exactly what Phoenix Suns fans want to hear – although it is better than one particular alternative:
There will be no improvement over 19 wins without a legitimate starting point guard.
There will be no Devin Booker in the future without winning and sincere belief that the roster will continue to develop.
There will be no Shaquille O'Neal and Kobe Bryant 2.0 unless someone can get Deandre Ayton the ball in the post and take perimeter pressure off of Booker.
There is zero hope of Josh Jackson improving into an above average wing if there isn't a point guard who can find him slashing to the rim (and he improves his shot – but that is a different story).
None of this can happen without a decent point guard, and Gambo thinks that there are at least four who might be targets of the Phoenix Suns, any of which would be an improvement over last year, and much better than the alternative.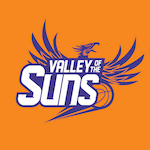 Want your voice heard? Join the Valley Of The Suns team!
Write for us!
<!—pageview_candidate—>