How Devin Booker can become the Phoenix Suns' single season scoring champ
Devin Booker is on pace to be the Phoenix Suns' second-highest single-season scoring average record. This is how he can become the franchise leader.
When the Phoenix Suns signed Tom Chambers in the offseason of 1988 as the NBA's first unrestricted free agent, they knew they were getting a solid power forward.
He had averaged 20+ points per game in each of the previous two seasons (and three of the previous four) including a career-high 23.3 in 1986-87 (the year he was also the All-Star MVP with Seattle) although his average had dipped to 20.4 the following year, his final before joining Phoenix.
They could not, though, have foreseen that he would become the franchise's single-season leading scorer in his first season (25.7 points per game, breaking Charlie Scott's 16-year-old record by 0.4 points), then shatter his own record the following year averaging 27.2 per game, finishing with the league's fourth highest scoring average that year.
Prior to 2018-19, that 27.2 points per game has come under attack on only three occasions: Charles Barkley – 25.6 in 1992-93, and Amar'e Stoudemire – 26.0 in 2004-05, and 25.2 in 2007-08 – although even Stoudemire's 26.0 (which currently ranks second in franchise history), was 121 points short of just tying Chambers, which statistically means that STAT would have needed to average 60.5 points per game in the two games he missed that season.
This season, Devin Booker is making the next best run at tying or breaking Chambers' franchise-leading mark, and to this point is closer than any other player in history.
Should his current 26.2 points per game at least hold, he will surpass STAT's 26.0 scoring average, placing the 22-year-old guard firmly in second place.
But with seven games remaining, he still has a real shot of taking down Chambers' soon-to-be 30-year-old record.
The team's next five games are all at home, versus Washington, Memphis, Cleveland, Utah, and New Orleans. Of those five, only the Jazz are a playoff team – and they are the who he just dropped 59 points on.
Phoenix then finishes the year out at Houston and Dallas, with the Rockets likely firmly in their playoff positioning and potentially resting some of their key players, while the Mavs will be just like the Suns – one game away from summer vacation.
At present, Booker would need to score 260.1 points over these final seven games to perfectly tie Tom Chambers' record of 27.2 points per game.
Statistically that means that he cannot actually tie Chambers, but by scoring 261 points, he would break the all-time record.
That means, Devin Booker has to average 37.28 points per game over the final seven to break the franchise's all-time single-season scoring average record.
Admittedly a daunting task, although a challenge that I believe Book should be up to.
As I wrote on March 26, Devin Booker dropping 59 against Utah, regardless of the outcome, made the team's otherwise awful 58th loss of the season, somewhat interesting.
Yes it meant rooting for an individual achievement in the face of team failure (unfortunately the place that Robert Sarver has currently placed us) but still something interesting and exciting to wittness nonetheless.
Booker, though, should look to the fans over the last two weeks of the season, understand that we're as gloomy about the franchise's situation as Suns fans have ever been, and metaphorically tip his cap by giving us a daily show.
In other words: Fire Away.
Sure, talking heads and naysayers alike will despise him for shooting for personal heights during a lost season, but he knows that true Suns fans will appreciate that his personal success will be for our benefit and let's face it: basketball is entertainment above all else, and if he publicly displays his talents to the best of his ability, reaching heights that the rest of us can only dream, we will watch and be amazed.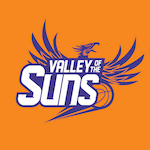 Want your voice heard? Join the Valley Of The Suns team!
Write for us!
Of course, do we all prefer wins over personal accolades? Absolutely. True fans are never fans of the names on the back above the names on the front – and even as I make an argument for Booker to make a run at the record, I do so with trepidation as I want him to play to win first.
But would I at all be upset that if he realized he is hot that he keeps shooting? Not at all.
At Utah he finished a solid 55.9% from the field while his teammates finished a combined 28.5%. What was he supposed to do? Pass the ball?
Would I be at all upset if a game goes out of hand that he takes a couple of extra shots in the second half padding his scoring stats a little more?
Not at all.
If a team does not want him to score on them, then stop him. He scores because he's capable. The game is played two ways, and if their defense isn't as good as his offense, then so be it.
That said, who else is expected to score on this team? T.J. Warren, Kelly Oubre, and Tyler Johnson are all out and they do not have a ball-handler besides Book, nor a confident and capable secondary go-to player.
And while I would hope that if Josh Jackson or Deandre Ayton became white-hot that Booker would defer to them without hesitation, I somewhat callously do not expect them too as I haven't seen it from either of them to this point in their careers.
Devin Booker needs only 261 points over the final seven games of the season to break Tom Chambers' soon-to-be 30-year-old record.
While doing so would require him to average almost 11 points more per game than he is averaging on the year, it is not only a something he can take a shot at, but an undeniable reason for Phoenix Suns fans to continue to tune in, and have a glimmer of excitement on an otherwise mercifully soon-to-be over second consecutive 60+ loss season.