With the swirling mess surrounding Donald Sterling and the Los Angeles Clippers, racial demographics among the entire league throughout each organization have been a popular topic. Nate Silver of fivethirtyeight.com created a chart demonstrating where each team's fans are on that spectrum. In terms of whiteness, Phoenix Suns fans tend to be less diverse than average.
In the article, Silver describes his method for determining the numbers, but we are more concerned with the results.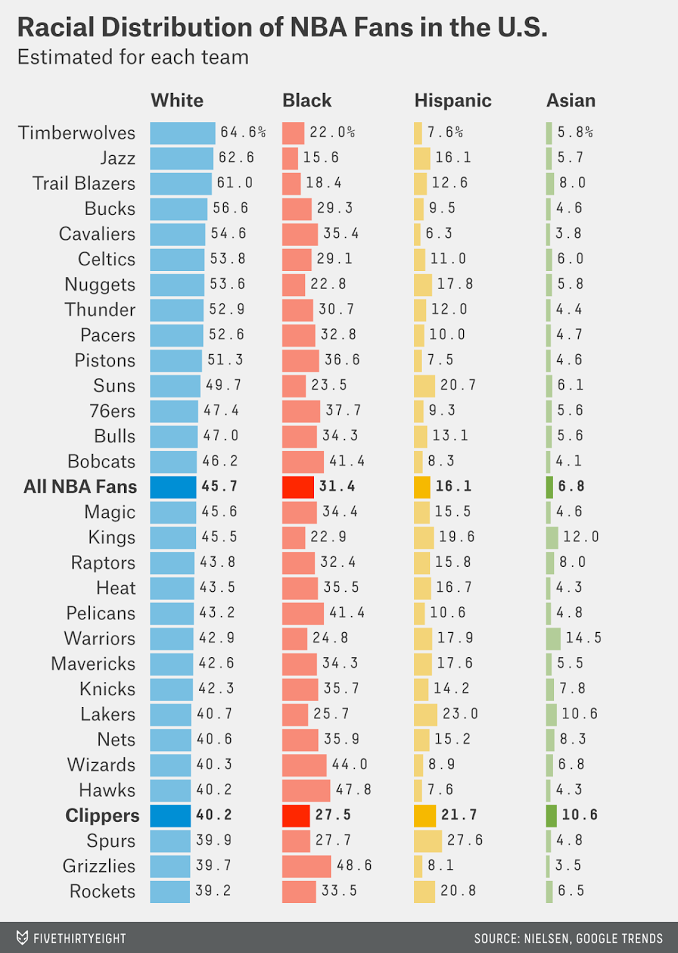 Phoenix Suns fans are estimated to be 49.7 percent White, 23.5 percent Black, 20.7 percent Hispanic and 6.1 percent Asian. Those numbers mean Suns fans are a little less diverse (or more white) than the league average.
Suns fans included the fifth-largest percentage of Hispanic fans in the NBA, only behind the Spurs, Lakers, Clippers, and Rockets. Phoenix Suns happen to be 26th in the league in percentage of black fans, according to the chart, only having more than the Kings, Nuggets, Trailblazers, Jazz, and Timberwolves. In terms of Asian fans, the Suns are 10th, with the Warriors leading the way with 14.5 percent.
While the results aren't earth shattering and sort of expected, it's interesting to have actual numbers to estimate the demographics of Phoenix Suns fans as they cheer on their team.
Tags: NBA Phoenix Suns