Is Brandon Knight Sacramento Bound?
With more rumors coming out this past week that the Phoenix Suns and Sacramento Kings may have renewed their discussions regarding Brandon Knight, then the question becomes – what might the Suns want in return?
Here are three possible options:
---
Brandon Knight for Rudy Gay
Odds are that if the Kings seriously wanted a ball-centric scorer in Brandon Knight, they would want to give up another ball-centric scorer in Rudy Gay. Fortunately for the Kings, the contracts match-up. Unfortunately for the Kings, the Suns likely wouldn't want to take on a similar player to Knight (although he does play a different position), especially with T.J. Warren currently holding down the offensive responsibilities at small forward. With Gay and Warren on the roster, either a league-worthy starter in Gay comes off the bench, or Warren's minutes are hampered.
The one positive for the Suns in this trade is that Gay's contract runs out after this season – although he has a player option for 2017-18 for $14,263,566. According to the article linked above Gay has stated that he would decline his option with Sacramento, but should something happen and decided not to do so with the Phoenix Suns, they would be stuck with that money for 17-18, and the roster dysfunction would continue for another year.
Gay is a solid and consistent scorer, however, and the Suns might look at him as a piece to help play with this growing core into the future. Currently at only 31, he might be the kind of veteran scorer who the Suns wouldn't mind having around for the next 4-5 years, should he wish to continue his career in Phoenix and sign a long-term contract.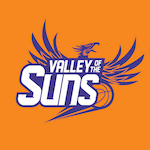 Want your voice heard? Join the Valley Of The Suns team!
Write for us!
<!—pageview_candidate—>